We are so proud of all of our businesses.  We want to highlight our 2020 Small and Large Business of the Year.
2020 Small Business of the Year - Dopkins Chapel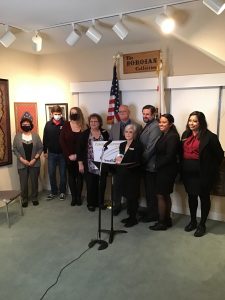 Pictured left to right Mayor Linda Launer, Jake Mizner(representing Congressman Nunes), Tara Adams (representing Assemblyman Mathis) Kathy Dollar, Michael Franzen, Karen Franzen and a few of their staff members.
George Madison Dopkins started out as a farmer, turning to carpentry, he opened  a furniture store in Traver with a partner.  Dopkins undertaking started in the backroom of the furniture store.  Not long after starting the funeral business in 1895, George would break away from the furniture store and open up Dopkins Funeral Parlor.    Since 1895 Dopkins has handled the funeral service and care of bereaved families through their loss. Although the faces of Dopkins have changed over the years, their goals and purpose have only grown in their strive to serve and care for the people we meet.
In 1920 George decided they needed a new building for their growing business, so a new building was built on the corner of J and Kern Street, where they still conduct business.  In 2020 they expanded their business building a new beautiful second facility in Reedley.
They've learned a lot over many years. Like how to present options without overwhelming. And how to meet the needs of many caring parties. People come to them in difficult times, and they respond kindness, calmness and expertise. Their goal is to create a beautiful occasion and make you feel welcome, always. They spend their days planning with families. They stay up to date with industry developments. And we make hard times a little easier.  This has been particularly true during the Pandemic as we all have had to adapt to CDC guidelines, maintaining social distancing and limitation of gatherings.
Community service and civic engagement has been present throughout their 126 years of business.  The building we stand in today, the Alta Historical Society White House Cultural Center was a gift of Evelyn Dopkins Corr.  A Library is named in her honor upstairs.  The family and staff have all served on numerous committees, organizations, and been civic leaders.  Always willing to financially support and actively participate to make a difference in Dinuba and the lives of its residents and surrounding communities.  Evelyn shared that while they started in the depression and many times customers couldn't pay, from the beginning their motto of the funeral home was "honesty and sincerity" and service to people was above everything else.
I have experienced their great customer service, compassion, and guidance.  I am proud to introduce our Small Business of the year Dopkins Funeral Chapel, owners Michael and Karen Franzen.  Visit their website to learn more https://www.dopkinschapel.com/
2020 Large Business of the Year - Valley Labor Services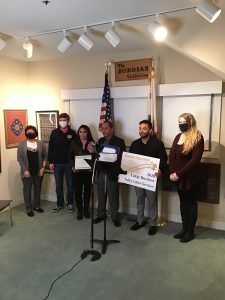 Pictured left to right Mayor Linda Launer,  Jake Mizner, (representing Congressman Nunes, Mercedes, Office Manager, Salvador Romero, owner, Sal Romero, his son and CFO, and Tara Adams (representing Assemblyman Devon Mathis).
Salvador Romero, owner of Valley Labor Services, shared a story of how he started as an entry level employee and worked his way up, eventually taking over the business that has over 200 employees, providing labor to the Central Valley agricultureal industry for everything from pruning, planting, picking, and packing, and the list goes on.  As a business owner with the help of his family, Valley Labor Services has become a business leader, where he demonstrates excellence, ethics and integrity in its business dealings.  He is respected by both customers and employees.  He promotes togetherness and a sense of civic pride and actively participates in community porgrams and projects to improve Dinuba.
Salvador is an active member of Kiwanis Bilingual in Dinuba and his business Valley Labor Services supports local sports programs and community events and projects.  The company under his leadership believes in paying it forward, giving time and money to make our community better.   This is an exerpt out of the acceptance speech from Salvador:
I also like to thank all my hardworking employees because without them the company would not be able to survive.  I would like to personally thank my office manager Mercedes for being with the company for 25 years, Sal for taking care of the company finances, and my wife Carmen who could not be here today. And Jane Hobbs who worked for the company for more then 40 Years
I would also like to make a special thanks to Ramiro De Leon for starting the company back in 1986 and giving me the opportunity to work my way up from an entry level job to owing the company.
I started working for Valley Labor in 1986 as an employee in the field and then working my way up to doing payroll in the office to later being mentored By Ramiro into taking over the company in 1996.
I believe I was able to achieve this level of success in the company because I did not jump around from company to company but instead wanted to learn every aspect of how the company was ran and really believed in the company values.  At Valley Labor we treat every worker with respect, equally, and listen to our employees in hopes of not just creating a great work environment but also creating more jobs for the community.
Lastly, I want to thank the Kiwanis Bilingual Club for allowing me to be a member and the opportunity to give back to the community.  I have lived in Dinuba for 47 Years and plan to be here in this great city for another 47.