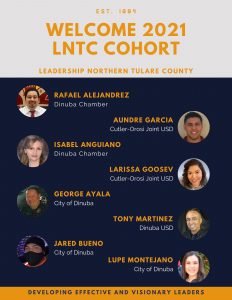 Welcome to our 2021 LNTC Class - Rafael Alejandrez, Jr., Isabel Anguiano, George Ayala, Jared Bueno, Aundre Garcia, Larrisa Goosev,  Tony Martinez, and Lupe Montejano.  We are so happy to have 8 members in this years class.  The kickoff was the Orientation on January 21, 2021 held at Campus Life.
The class got an overview of the year and learned a little about each of their classmates and their own personality and strengths.  It was a lot to take in, but with Eddie Valero as their facilitator and the Steering Committee introduced to provide guidance at the Welcome Reception to this awesome class, we should have a great year!
Non-profits and Social Services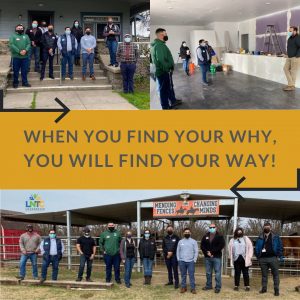 The 2021 LNTC had their first day session led by Isabel Anguiano and Guadalupe Montejano.  The day started with a visit to "Mending Fences and Changing Minds" Youth and Equine Ranch is a program that provides our At-Risk Youth with hands on experience working with horses and performing daily ranch duties. The ranch is located on the corner of Rd 120 and Ave 392 in Cutler CA.   As a community based organization, they also provide additional services such as mentoring programs, recreational group activities and community based events and projects.  The class learned a lot about how to start a non-profit and the importance of creating a strong board to help move the business forward and fulfill the mission of the organization.
After lunch at our new downtown restaurant, Ortega's, the class went over to hear about a new business, Brick & Stone Coffee, owner Anthony Reyna, shared the vision for the coffee shop and the challenges of opening up a new business.
Open Gate Ministries, Cheryl Jackson Director gave a tour of the Open Gate Shelter and Food Distribution Facility, sharing the mission of the ministry.  The shelter not only provides a home and food for those who need it, but there is also training and mentoring to help the residents learn how to handle money, get a job and become independent.
Angie, City of Dinuba Code Enforcement gave a presentation about the homeless.  Information about programs, statistics, and personal encounters, provided a clearer picture of the social issue facing our society.
Closing off the day, was a visit to Dawnings Pregancy Resource Center, led by Cheryl Nicolay.  Cheryl shared the story of how Dawnings got started with Dinuba Unified leasing the property for $1, volunteer labor and many donations made the dream come true.  They learned how volunteers provide medical, counseling, and educational services to mothers and fathers, young and old, making the family unit stronger.  Diapers, formula, baby clothing, are donated by the many supporters and program attendees earn credits to purchase these items as they attend parenting classes.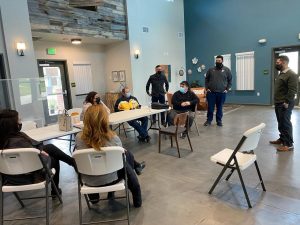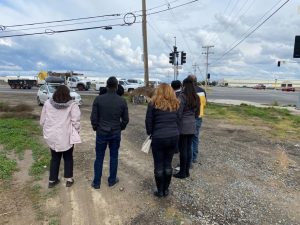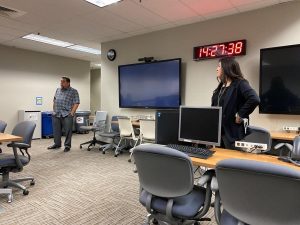 Class Wrap up Session                       Visiting the Industrial Park in Visalia          Michael Washam and Julieta Martinez
The 2021 LNTC second day session was led by Aundre Garcia.  The class started off the day with Economic Considerations and Approach with Devon Jones, Economic Development Manager, City of Visalia, followed by Nathan Ahle, CEO, Tulare County Economic Development Corp. and Daniel James, Assistant City Manager, City of Dinuba providing perspective from a large city, our local city, and county's approach to economic development.  The Dinuba Police Department provided the meeting room for the morning session.
The afternoon session started with a presentaion from John Hess assistant CAO, Michael Washam, Associate Director Resource Management Agency, Tulare County, and Julieta Martinez, Economic Development Manager, Tulare County, at the Government Plaza in Visalia.  John and Julieta presented budgeting, data, and statistics for Tulare County and how they affect economic development.  Devon Jones met up with the class again out at the Industrial Park on Plaza and Riggin, where he shared information about current facilities as well as plans for future development impact on the employment, infrastructure, and revenue.
The class learned how all of the agencies work together, who were the key players and what their approaches were, how community assets and resources, such as infrastructure, location, funding, and workforce drive development and shape our cities and counties.